Custom Cycling Jerseys, Kits, & Apparel.

THE
BEST
CUSTOM
CYCLING
APPAREL.
PERIOD.
THE
BEST
CUSTOM
CYCLING
APPAREL.
PERIOD.
Crafted for Every Cyclist
At Primal, we understand that every cyclist is unique. That's why we offer a wide range of custom cycling apparel, including jerseys, shorts, bibs, and even cycling socks, designed to cater to your individual style, performance needs, and team identity. Whether you're a road racer, mountain biker, or casual rider, our custom cycling kits ensure you ride in comfort and style.
We blend design, craftsmanship, and unparalleled customer service to bring you the best custom cycling apparel in the universe.
Why settle for sub-par design work contracted out to another company? Our in-house creative team has been leading the industry since 1992. Not only is our design team the best, the service comes included. Bring your concept to us, or come with a blank slate, we're ready to bring your custom cycling kit dreams to life.
We know e-commerce, we live and breathe it everyday. We bring you the ease and convenience of a online storefront for your team, club, business, or event. All under the trusted Shopify Plus platform.
• Unlimited Color Options
We are color experts. You could even say we are nerds. We spend countless hours perfecting our color management systems and before we geek out any further, this means you get the best, consistent, vibrant, colors available. We have all the neon ink options, plus... our inks are eco-friendly.
• 6-8 Week Delivery (Rush Options Available)
We manage our production timelines to guarantee your delivery date. We know how important getting your custom jerseys before the big day, for retail sales, or for team camp. Rush services are also available when needed.
We plan for the unexpected and we know that it's important that we help our customers when the chips are down. The last thing you want to think about when you hit the deck is a torn chamois. Send us your current year's damaged kit and we will repair or replace it.
*Minimums can apply to specialty items,
WHAT OUR CUSTOMERS ARE SAYING
"I'd like to thank you again for providing great customer service for our Dream Ride jersey orders over the past few years. You and your design team do a great job of interacting with customers and I'm always pleased with the results and turnaround on all aspects of the design process.We're looking forward to working with you on next year's order!"
Debbie B.
Ride Director
California Bicycle Coalition
7 OCT 2019
"From the first contact, to working with product development to receiving the fit pack and working with the Nick Phipers, I have received the best, white glove service and most stellar expertise through every single step of the custom design and ordering processes. I am thrilled with my first garment I received and can't wait to get the other orders. Primal Wear, you amaze me. I can't think of anything that's lacking, I'm sorry to not be of much help. Nick is a gem! With sincerity, Trish"
Trish P.
Director North Texas NICA
6 JAN 2020
"I just wanted to send you a quick note to let you know we received the jerseys in the mail today and they look GREAT! The color looks fantastic and they are here ahead of schedule! Anyway, we really appreciate the great work that you guys do for us every year, we're always proud to wear our Primal gear out on the ride. Hopefully we'll win the best jersey award again this year!"
Kevin G.
Designer
Tommy Bahama Team
20 AUG 2019
Unleash Your Creativity: Design Your Own Cycling Kit
With Primal Custom Apparel for Cycling, you have the power to design your own cycling kit. Choose from a palette of vibrant colors, select unique graphics, and even add your team's logo. Our user-friendly design platform puts you in control, allowing you to create a kit that not only looks great but also represents your team's spirit and identity on the road. Whether it's a custom cycling jersey, shorts, bibs, or even personalized socks, we've got you covered.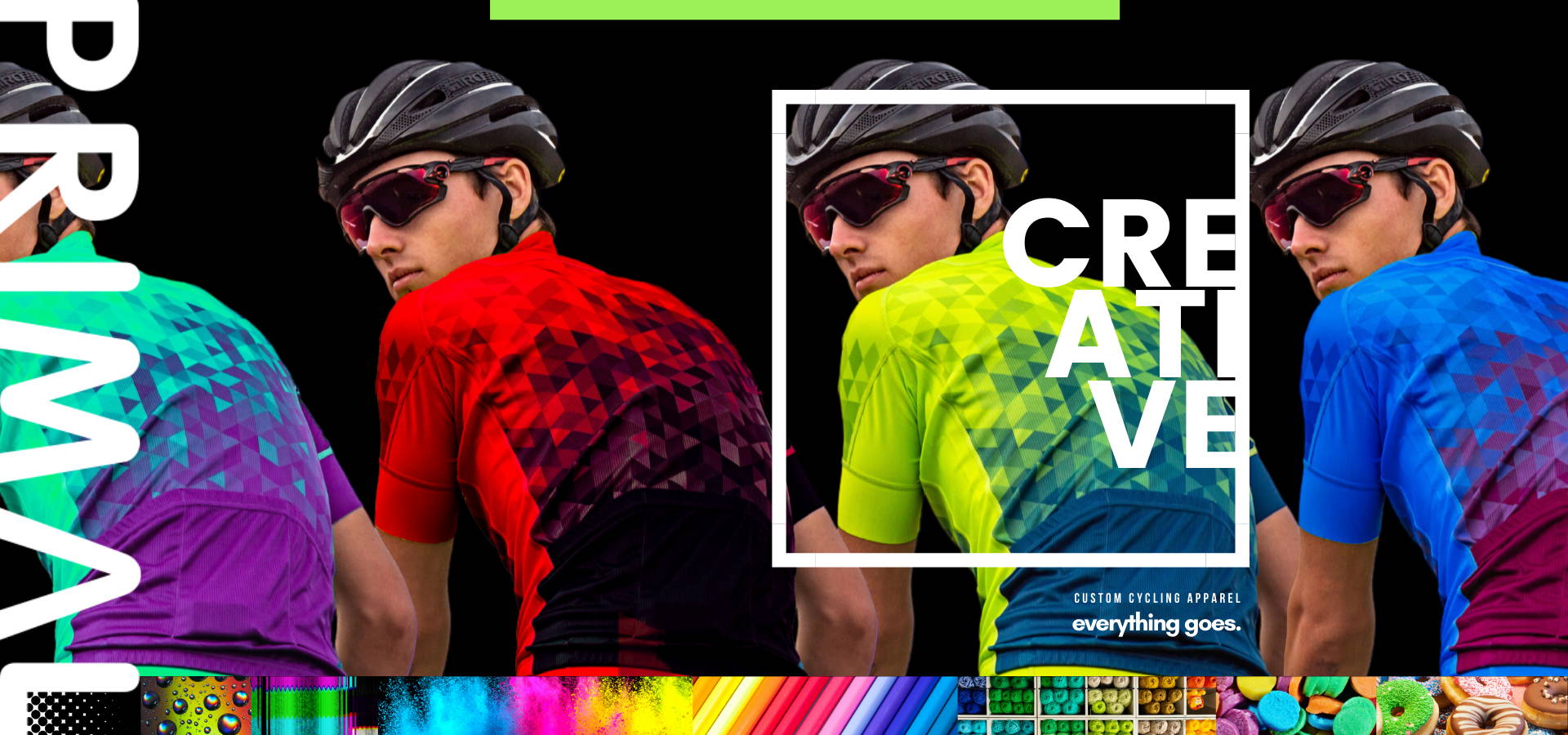 NEED DESIGN HELP?

YOU LIKE
WHAT
YOU LIKE.
AND WE
LIKE THAT.

Creativity is in our blood. In our sweat. In our coffee. It's doodled on our notebooks.
We've made groundbreaking designs since 1992. Our world-renowned creative department works with everyone from Fortune 500 corporations, to rock & roll legends Pink Floyd and Grateful Dead, to Major League Baseball, and just about everything in-between.
We can bring your dream jersey to life.
Give us a try. We'll make you happy!
A Team Effort
Whether you're part of a professional cycling team, a local club, or a group of passionate riders, Primalwear is here to support your team's vision. Our dedicated team of experts will work closely with you to bring your design ideas to life, ensuring that your team stands out with confidence and pride. Together, we'll create a kit that includes custom cycling shorts, bibs, Jersey, and even cycling socks.
Ready to create your one-of-a-kind cycling kit? Dive into the world of Primal Custom Apparel for cycling and design the gear that will elevate your riding experience. Explore our intuitive design platform, browse through our premium fabric options, and let your creativity flow. Get started today and ride in a kit that's as unique as you are, with custom cycling jerseys, bib shorts, socks, and custom cycling clothing tailored just for you!
With decades of experience in the cycling industry, Primal Wear has established itself as a trusted name in custom cycling apparel. We take pride in delivering exceptional quality, unmatched customization options, and a seamless ordering process. Join the countless teams and riders who trust Primalwear for their cycling apparel needs, from custom bike jerseys to specialized custom cycling socks.
#primalwear #ridewithprimal #primalcustom
100% Satisfaction Guarantee

We know you're going to love your Primal apparel

as much as we do. If for any reason you aren't

completely satisfied with our products or service,

please let us know and we will make it right.
Primal Gives Back

With the help of our customers, partners, friends, and family, we've been able to contribute over $9 Million to health, advocacy, conservancy, and youth programs around the world.